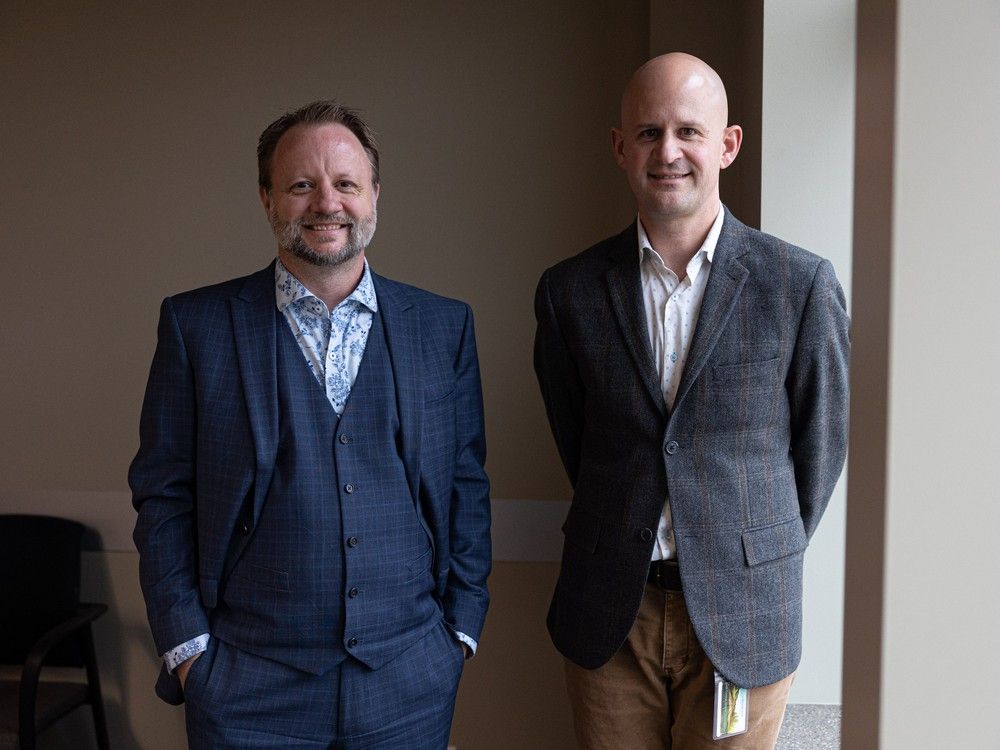 Procido LLP opens downtown in the Birks Building in Saskatoon
Offering a fixed flat rate schedule of fees or monthly project fee models is the point of difference at Procido, which specializes in litigation, corporate and commercial law.
Article content
Businesses and non-profit organizations regularly open and move in Saskatoon. Today the StarPhoenix talks to Troy Baril who, together with fellow founding partner Chad Eggerman, opened Procido LLP in the Birks Building downtown in June.
Article content
In just half a year of operation the law firm founded by the Saskatchewan-born lawyers is already up to seven lawyers and two support staff, with offices in four provinces. Procido LLP offers a unique billing structure popular in Europe that provides cost certainty and they are working to be entirely cloud based, allowing their staff to access files wherever they are. Eggerman, who was born and raised in Watson, specializes in corporate law, and Baril, who spent his early years in Eyebrow before attending law school at U of S, focuses on litigation.
Article content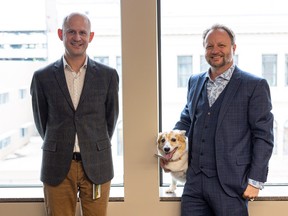 Q: Why did you open Procido LLP?
A: Chad and I wanted to do something different. We wanted to build a different model and deliver legal services in a new and innovative manner that kind of has a hold in Europe right now, but really hasn't picked up here in North America. We are doing things more on flat fixed fees rather than relying solely on the billable hours. Now, a lot of firms do promote that they offer alternative fee arrangements but the billable hour is really the standard for legal services in North America. And so we wanted to do something different and really dig into how we could provide cost certainty to our clients through more of a fixed price model.
Article content
Q: What is your background?
A: Chad and I have known each other for about a decade. My entire career up until now has been with Miller Thomson, a national law firm. When I articled the firm was Balfour Moss, and in 2011 the firm merged with Miller Thomson. So I was with that firm from graduating law until June 2022. When I was there, Chad joined our firm. He and I worked quite closely at Miller Thompson. And then, around 2019 I believe, Chad moved his practice over to MLT Aikins. We're quite close friends and we kept in touch. Then Chad had this idea, and he approached me and asked if I wanted join him. When he explained the idea to me, it was a no-brainer.
Q: What legal services does Procido LLP offer?
A: We can pretty much handle any area of law. Litigation is the broad area of my expertise and Chad and his team can handle pretty much any corporate matter that comes across their desk. If called for a criminal matter or a family law matter, we have connections in the city that we would refer out because we're not currently practicing those areas.
Article content
Litigation includes civil and corporate, contract dispute, construction law. If it falls within litigation, we probably do it — estate litigation, foreclosure and solvency, debt collection, all kinds of stuff. And we represent numerous municipalities across Saskatchewan, providing legal and advisory work.
On Chad's side, his team do all things corporate and commercial — contract, joint ventures, mergers and acquisitions, commercial real estate, but their big area is in energy law. They do solar projects, wind projects, large renewable and clean energy projects, hydro, nuclear. They help on the project procurement, finance side — building these large alternative resource projects — and he has four people including himself on that team, doing that in Saskatchewan and Alberta.
Article content
Q: Are you hiring more staff?
A: We're in the process of talking to a number of additional people. We expect our team to continue to grow. Our goal is to have 25 lawyers and 10 support staff in the next five years. We've only been operating since June, and we're already up to seven lawyers and two support staff. So we're already a third of the way to our five-year goal in just a matter of four months. We expect that by probably summer next year we will probably have another five lawyers joining us.
Q: How does your fee structure work?
A: We offer a fixed flat rate schedule of fees. We can provide what each stage is going to cost and that's what the price is going to be, so there's no surprises later. Often people get estimates (at law firms) and they're very broad estimates, and you really don't know. Having that flat structure and flat fee we provide gives that certainty.
Article content
We have monthly project fee models, where if we are working on a project for a client we can determine how much the fees will be throughout the life of the project and then just do it as a monthly price as you go along. We call it, the PFAP model. It stands for Procido Annual Fee Program. This is a model that has been around in Europe for years. It hasn't really got any traction in North America. The biggest advantage to that is that if you're on our prescription PFAF program model you just call us with your question. You don't have to worry about how much is this five-minute, 10-minute, or two-hour call going to cost because advisory is always included in the PFAF. And so you can just call us with your questions and we'll spend the time with you and answer those questions and the client doesn't need to worry about watching the clock, ticking down the number of dollars this is costing.
Article content
The billable hour is always available as well. That's kind of the standard for legal work, but we're trying to move away from that.
Q: What makes Procido LLP unique?
A: We provide a law firm that supports diversity and inclusivity. I know everyone always talks about diversity but it doesn't always get put into practice the way some organizations say they want to. And so for us, a goal was to really support women in law, newcomers to Canada, Indigenous peoples and groups and minorities because the practice of law has historically and still kind of is very much, a white male-dominated profession.
We are also working to be entirely cloud-based. We're trying to move away from being a paper practice where you've got files all over the place. We promote working remotely and I think that can be seen in the fact that we have two lawyers in Calgary and a lawyer in Winnipeg. Being cloud-based, we have that ability to work anywhere in the world and still provide good and efficient and quick service to our clients because we are so connected these days through the internet.
Article content
This interview has been edited and condensed
Procido LLP
Owners: Troy Baril and Chad Eggerman
Address: Suite 400 – 165 3rd Avenue South (The Birks Building)
Hours: 9 a.m. to 4 p.m., Monday to Friday
Phone: 306-664-1444
Email: [email protected]
Website: procido.com
Check: Facebook, Instagram, Twitter, Linked In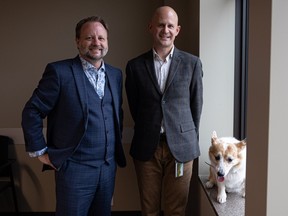 Have you recently started or moved a new business or non-profit organization in Saskatoon? We want to hear your story. Please email [email protected]
Hub City Kennel & Obedience Club new location allows more opportunities for dog classes and other services

The Cheese List brings unique cheeses to Saskatoon

Canadian restaurant chain Guac Mexi Grill opens first Saskatoon location

International brand Regus occupies fourth floor in Scotiabank Building with coworking space
The news seems to be flying at us faster all the time. From COVID-19 updates to politics and crime and everything in between, it can be hard to keep up. With that in mind, the Saskatoon StarPhoenix has created an Afternoon Headlines newsletter that can be delivered daily to your inbox to help make sure you are up to date with the most vital news of the day. Click here to subscribe.